Microphones: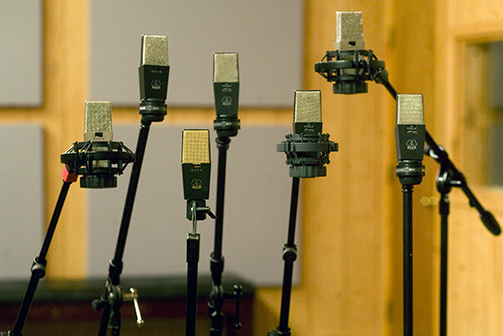 (3) Neuman U-87 (originals)
(1) Neumann U-87ai
(1) AKG "The Tube" (C-12 clone)
(2) AKG414EB "Silvers" w/CK-12 brass capsules
(5) AKG414BULS
(4) Cascade Fathead II Ribbon Mic.s
(2) DPA 3521 Cardioid Condensers (matched pair)
(2) Modified Apex 460s (AKG 414 capsules, Lundhal transformers)
(2) Audio Technica 4031 (SDC)
(1) Audio Technica 4049 Omni
(2) Audio Technica 4051 Cardioid SDC mics
(1) Shure SM-7 microphone
(9) Shure SM-57
(1) Shure SM-58
(1) Sony ECM-55F (Side-addressed SDC)
(1) Sony ECM 22P (SDC)
(1) Sony ECM 33P (SDC)
(4) Crown PZM boundary Mics.
(1) AKG D224e dynamic
(4) Audio Technica ATM25s
(3) Sennheiser D12 large diaphragm dynamic mics.
(2) Sennhieser 421
(1) Sennheiser 441
(2) AKG 451E SDC (cardioid)
(1) 1945 RCA 74B Ribbon mic, modified by Clarence Kane

Control Surface:
Digidesign D-Control 32 moving fader control surface with X-Mon monitor controller.

Multitrack:
Pro Tools Ultimate HDX (latest version)

I/O:
(2) Avid HD Interfaces, each 16 in/16 out analog

Cue System:
Aviom 16-channel w/8 listening stations
(9) Audio Technica ATH-50 headphones
(12) AKG 240 headphones, others, (5) 4-ch
headphone amps for large ensembles.

Preamps:
(4) Neve (custom built) 1272 w/original transformers
(4) Focusrite ISA (428 type) preamp
(16) Midas X-48 (Class-A, transformers)
(1) Rupert Neve Designs "Portico" 512 (2 ch.)
(1) dbx Model 386 Stereo tube preamp

Outboard Gear:
Manley Vari-Mu compressor/limiter
(2) Pultec EQ-1A3 Tube Equalizer (clones)
(2) 1176 Compressors (clones)
(2) dbx160X Compressors
SRS (Sound Retrieval System)

Monitors:
Barefoot MM27 Micro Mains
Dolby Atmos JBL/Klipsch 7.1.4 immersive audio system
Subwoofer, Auratone cubes (originals)
Avid X-Mon controller (stereo)
JBL Intonato 24 monitor controller (Atmos)

Computer:
Mac "Trashcan" Pro, 12-core with 64 Gigs RAM and Sonnet expander chassis

Plug-ins:
Vintage and new plug-ins by Universal Audio, Waves, Slate and many others. Basically, if it's not here...we'll get it!